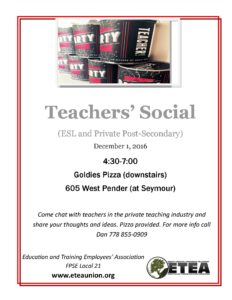 ETEA is happy to announce that it is holding two related events on Thursday, December 1st, 2016. We're having a social for private college and ESL instructors from 4:30 to 7:-00 pm at Goldies Pizza (605 West Pender Street, at Seymour, northwest side, downstairs). This will be a great chance to meet and/or reconnect with other ESL and career college teachers from different schools and institutes throughout the city, talk about work and life in the field of private post-secondary education, and relax after a long day at work. Different varieties of delicious pizza and one drink (alcoholic or non-alcoholic) will be provided to all attendees.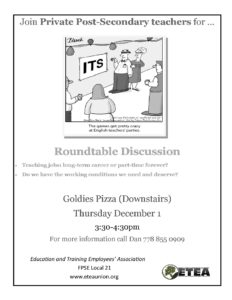 Immediately before the social, at the same location, we will be hosting a roundtable discussion on life in the private teaching field. Our moderators will be leading a discussion on questions like "are teaching jobs in the private sector suitable for long-term careers, or are they inevitably precarious, short-term, contract-based, substitute, or part-time?" and "do teachers in this industry we have the working conditions we need and deserve, and if not, how can we get them?" We hope to have approximately 10-12 teachers from various sections of the industry show up to the event, but all are welcome, and someone will be on site from ETEA regardless.
If you would like to attend either or both events please drop by, and tell your friends and colleagues in the field! If you'd like further information about these events, the venue, or the ETEA, please contact Dan at 778-855-0900.
Update: we held similar teachers' outreach events on January 26th at Waves Coffee on Hastings, and on March 16th at Moose's Down Under pub on Pender. We will continue to hold these kinds of events occasionally over the next few months to try to reach out to teachers in this city to talk about teaching careers and working conditions in Vancouver. See our Meetup.com page for more information. You can also check our facebook page or our Twitter account for updates!